Almost completed tubey
Never ever ever EVER make important decisions in knitting after 1:30am. Never ever. Here's the result if you do. I was sitting there, thinking wow, I've really done some serious knitting here (those ice dancing series are good for cranking out the knitting!) and was in bed, tired, and thinking I was ready to finish up this puppy. I held it up to my bod, squished it against me and thought "yup, that'll do". No measuring tape in sight (I would've had to get my tired butt out of bed and cross the room, so apparently that was out of the question.) I decide to NOT take 5 measly minutes and put it on waste yarn so I could try it on, no, not me, I don't need to do that.... Here's the result.... Good looking sweater, but showing a bit of belly flab. ooops. I'm gonna learn how to un-bindoff and add a couple of inches and then be done. I do love the look, though!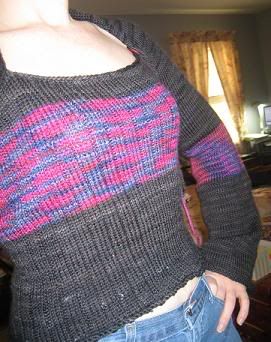 OK, apologies for the angle of the picture, like I said, it was 1 freaking 45 in the morning and my arms are only so long to take those pics. Didn't mean for my little boob to be the center point of the pic, oops. Anyway, I am LOVING this pattern, and my daughter wants a smaller matching version, so I've got to do some measuring and thinking!